The 64th World Congress of Chess Composition takes place in Fujairah, UAE, from the 12th to the 19th of November. There are many events scheduled, including the 45th World Chess Solving Championship.
UAE is the first Arab country in the Middle East to organize the World Chess Solving Championship and to host a general assembly, as it has never been held in the region before.
The 45th World Chess Solving Championship and 64th World Congress of Chess Composition will run under the patronage of Sheikh Mohammed Bin Hamad Bin Mohammed Al Sharqi, Crown Prince of Fujairah.
At the opening ceremony on the 12th of November, the President of the Fujairah Chess Club, Dr Adbulla AAL Barket, welcomed all participants and expressed his gratitude and appreciation to Sheikh Hamad and Sheikh Saleh Bin Mohammed Al Sharqi, Chairman of the Fujairah Department of Industry and Economy, for their unwavering support, which enabled Fujairah chess to experience amazing growth on a global scale and helped Emirate host this prestigious tournament.
The Opening session of the 64th World Congress of Chess Composition took place on the 13th of November, with many important issues being discussed. The Congress continues with the Commissions meetings and ends on the 17th of November with the WFCC Presidium election session.
On the 14th of November, the OPEN composition tournament was held. GM Danila Pavlov (pictured below) convincingly won the event, Eddy Van Beers took second place, and Ofer Comay came third.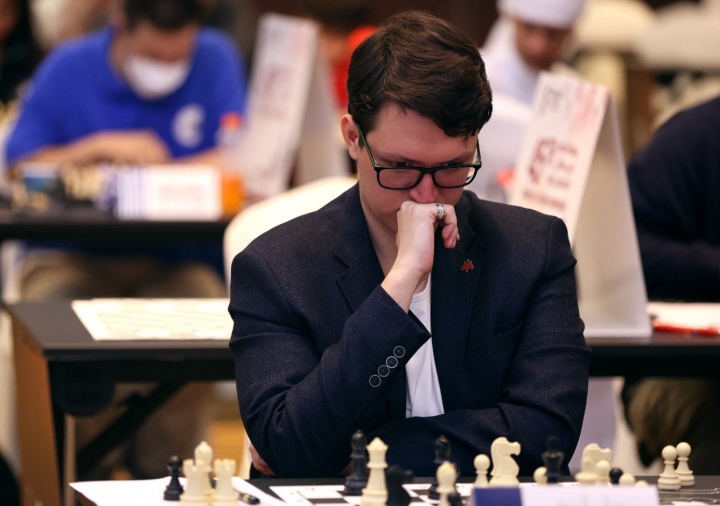 Eighty-one participants representing 23 countries are competing in the World Chess Solving Championship, which started today on the 15th of November. The competition will stretch over two days with thee rounds held daily. The participants are to solve different compositions (3 two-movers, 2 three-movers, 3 endgames, 3 helpmates, 3 more-movers and 3 selfmates) during a limited period of time.
The most exciting moment comes at the end of the round. After the solvers give their solutions, they can leave the venue and compare their answers with the correct solutions distributed by the organizers.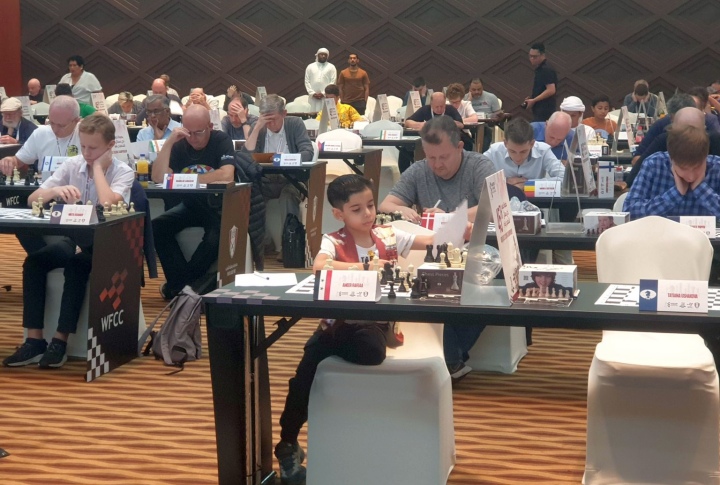 The participants compete in both individual and team categories. The teams consist of three (four at ECSC) solvers and the team leader, who may be one of the solvers. Teams consisting of only two (two or three at ECSC) solvers are also permitted. The members of the teams simultaneously compete in the individual championship.
Many participants have more than one chess set on their table or don't have any of them and try to solve from the diagrams on the paper they receive at the start of the round. In the rules for those competitions, a solver may use the chess board(s) and men made available by the organizer or his own set(s).
The international blitz tournament will take place on the 19th of November. More than 270 players have already registered.
The total prize fund for all events is €40,000.
Official tournament website: wccc2022.wfcc.ch/
Facebook page: facebook.com/fujairahchess