Chitambaram finishes with 7.5 points, half a point ahead of Predke and Praggnanandhaa
GM Arvindh Chitambaram of India was crowned as champion of the 22nd Dubai Open Chess Tournament during the awarding ceremony Sunday night at the Sheikh Saeed Bin Hamdan Al Maktoum Hall of the Dubai Chess and Culture Club in Al Mamzar. The closing ceremony was attended by His Excellency Khalid Ali bin Zayed Al Falasi, Chairman of the club's board of directors, His Excellency Tarim Matar, President of the UAE Chess Federation, and members of the club's board of directors.
The 22nd edition of the Dubai Chess Open 2022 took place from 27 August – 5 September at the Dubai Chess & Culture Club. The 9-round Swiss tournament with a total prize fund of $50,000 brought together 180 players from 35 federations.
In a speech during the ceremony, tournament director Saeed Yousuf Shakari praised the strong support extended by the Dubai Sports Council to the club and its various chess programs and for supporting the development of Emirati chess talents and their participation in tournaments in the UAE and outside the country. He also commended all the participants for the high level of competition and exciting matches during the tournament, and the arbitration team, headed by the Emirati International Arbiter (I.A.) Mahdi Abdulrahim.
Chitambaram, who started as the tournament's 13th seed, came out on top scoring 7.5/9 after a draw in the final round with his compatriot GM Rameshbabu Praggnanandhaa. The top-seed GM Alexandr Predke and GM Praggnanandhaa finished on seven points, but Alexandr claimed second place thanks to better tiebreaks, relegating Praggnanandhaa to the third position.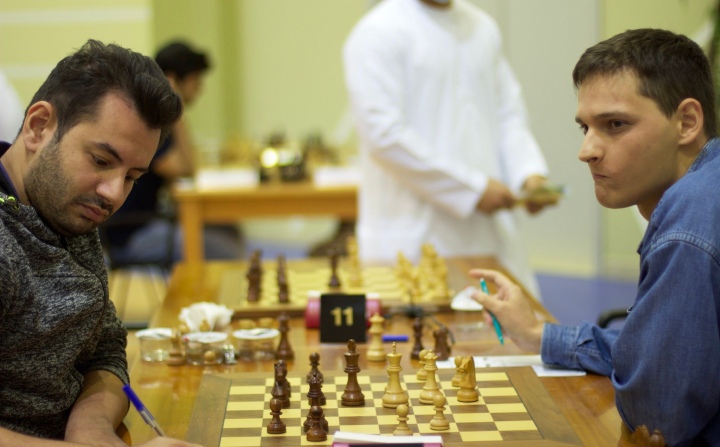 Predke had a chance to tie Chitambaram for first place and even win the tournament with a higher tiebreak score over the Indian, but could only manage a draw in his final round game against GM Ahmed Adly of Egypt.
"It's always nice playing in Dubai," said Chitambaram, who had been a guest at a friend's house during his stay in the emirate. "The conditions are great, and it's a brilliant venue."
Chitambaram nursed a slight edge against Praggnanandhaa, but eventually conceded to a draw by repetition of moves when his fourth-seed opponent mounted a dangerous counterattack against the white king.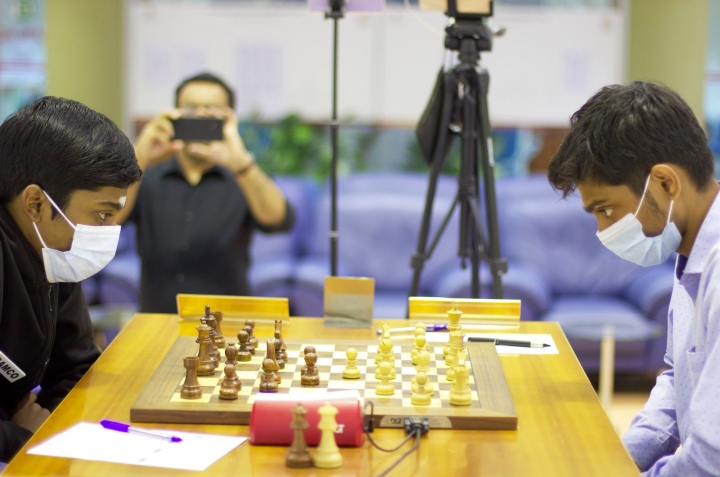 "The position was equal, so I had to take a draw," Chitambaram said.
"I've not done too well in any of the Dubai tournaments before, but this one came out a surprise like I cannot believe that I won the championship."
His triumph in Dubai, in addition to winning the Indian blitz and rapid titles earlier this year and a tournament in Benasque, Spain, has helped Chitambaram rebound from a heartbreaking campaign in 2021, when he lost rating points and missed a chance to join the Indian teams to the World Chess Olympiad, which India hosted last month.
"It's always nice to win any tournament in general and I'm really happy with this win," said the 2018 and 2019 Indian champion.
Chitambaram received USD 13,000 and a championship trophy while the rest of the top 15 players also collected cash prizes.
Three other players finished on seven points: the tournament's 2011 champion GM. Abhijeet Gupta, IM Sammed Jaykumar Shete and former Asian champion GM. Sethuraman S.P., who finished fourth to sixth in that order.
Final standings:
| | | | | | |
| --- | --- | --- | --- | --- | --- |
| 1 | GM | Aravindh Chithambaram | IND | 2614 | 7½ |
| 2 | GM | Predke Alexandr | FID | 2692 | 7 |
| 3 | GM | Praggnanandhaa R | IND | 2661 | 7 |
| 4 | GM | Gupta Abhijeet | IND | 2631 | 7 |
| 5 | IM | Sammed Jaykumar Shete | IND | 2381 | 7 |
| 6 | GM | Sethuraman S.P. | IND | 2625 | 7 |
| 7 | GM | Erigaisi Arjun | IND | 2689 | 6½ |
| 8 | FM | Poormosavi Seyed Kian | IRI | 2404 | 6½ |
| 9 | GM | Indjic Aleksandar | SRB | 2613 | 6½ |
| 10 | GM | Harsha Bharathakoti | IND | 2557 | 6½ |
Special Prizes
I.M. Omran Al Hosani received the Best Emirati Player award, while India's WGM Divya Deshmukh took the Best Female award. Indian players, meanwhile, took the rating category prizes: Panda Sambit (under 2400), Sanket Chakravarty (under 2300), Ayush Sharma (under 2200), Raghav Srivathsav V (under 2100), and Joel Paul Ganta (under 2000).
Photo: Dubai Chess & Culture Club