Fabiano Caruana was crowned the winner of the 2022 Champions Showdown: Chess 9LX after defeating Alireza Firouzja in Armageddon during their rapid playoff match. The victory capped off an incredible day for Caruana, who won his final three games in regulation to finish with 6.5/9 and catch Firouzja to force a playoff tiebreaker.
For Firouzja, it was a mildly disappointing conclusion but, nevertheless, a stellar result to end his campaign in Saint Louis, where he won the Saint Louis Rapid & Blitz, Sinquefield Cup, and overall Grand Chess Tour. Sharing third place were Ian Nepomniachtchi and Shakhriyar Mamedyarov, who both ended on 6.0/8, while 13th World Champion Garry Kasparov could not turn his luck around–despite several promising positions throughout the event, he eventually finished with 0.5/9.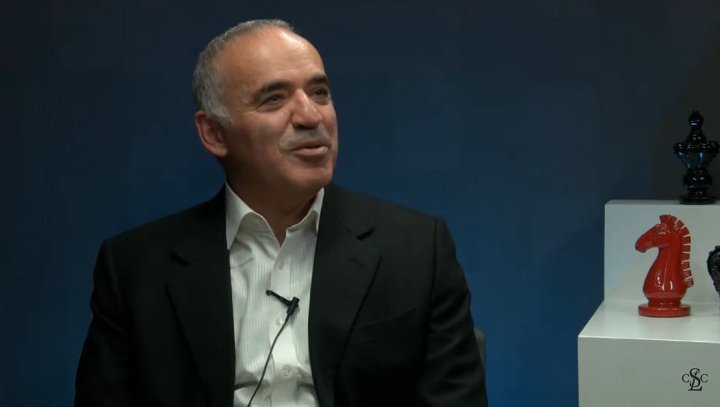 Kasparov: "I think there were very high expectations after my performance last year here, but last year I did some chess. This year when I arrived here, I just realized that I didn't play chess, over the board, for a year. And obviously the latest events in Europe, and all the war in Ukraine consumed my energy and attention. Some games here made me feel really good but, of course, I wanted to do better."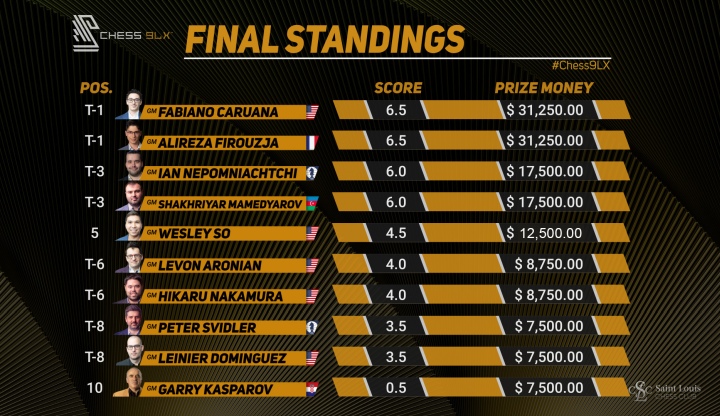 ROUND 7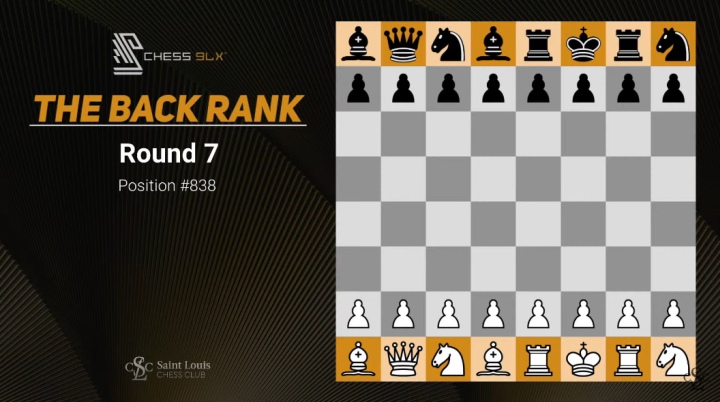 Round 7 – Starting Position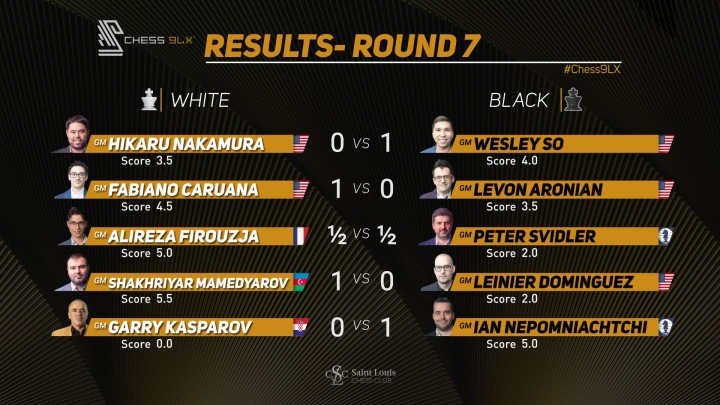 Going into the round, all eyes were on Firouzja and Mamedyarov, who entered the day as co-leaders. Firouzja built up a decisive advantage against Svidler by grabbing material early on and getting away with it, but could not sort through the complications after a desperate rook sacrifice by Svidler, and in massive time trouble settled for a draw by repetition.
In Mamedyarov's case, after squandering a huge advantage to end up in a drawn knight vs. bishop endgame against Dominguez, he managed to pose just enough problems to induce a game-losing blunder and take the sole lead.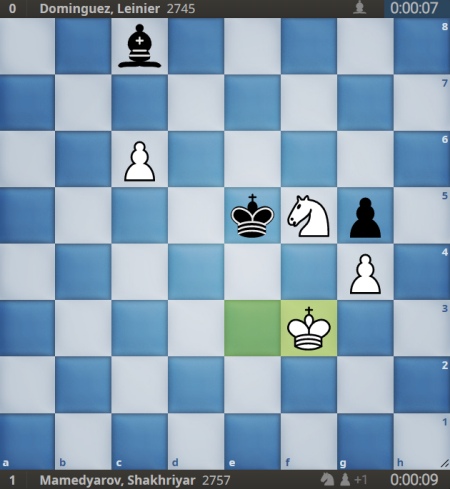 81…Be6? was the losing mistake, as after 82.c7! Black could no longer prevent Ne7, followed by promoting the c-pawn.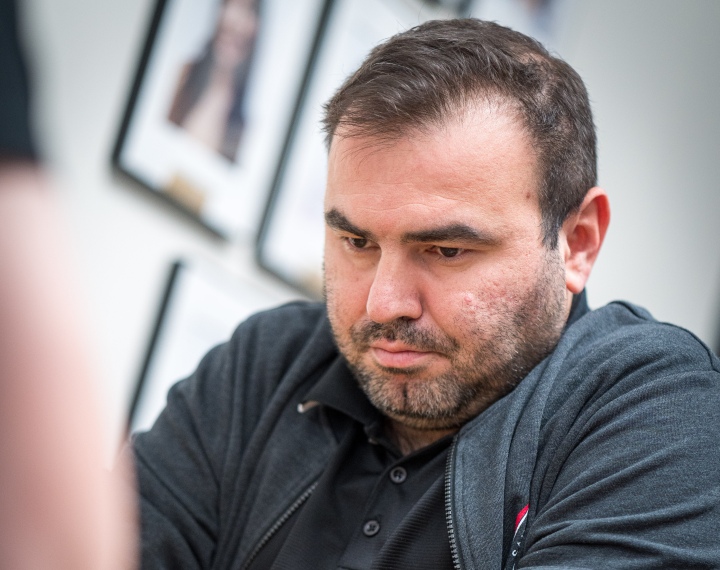 Mamedyarov led after seven rounds but just ran out of steam at the end. | Photo Courtesy of Saint Louis Chess Club, Lennart Ootes
ROUND 9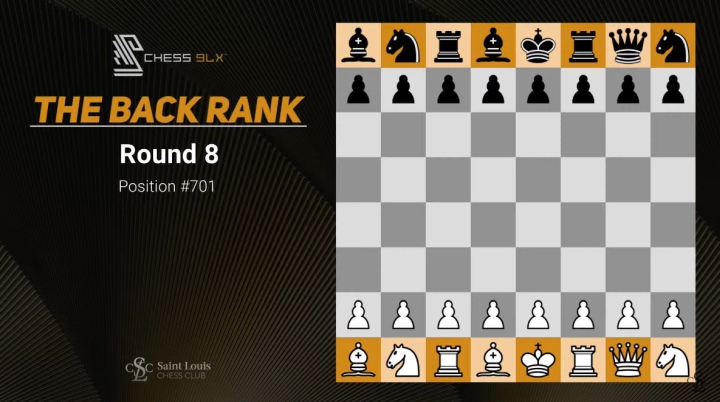 Round 8 – Starting Position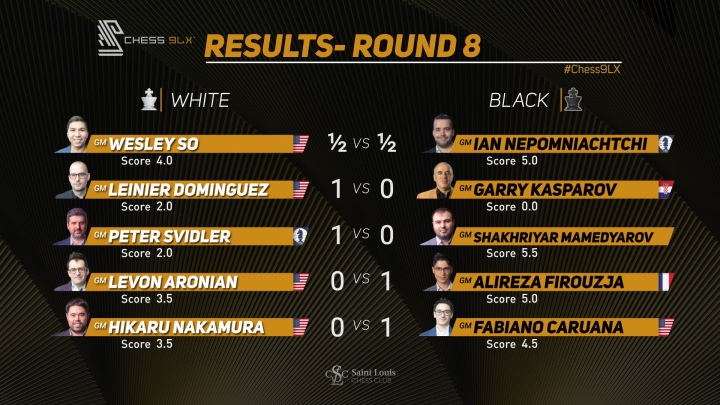 The penultimate round saw the standings flip as Mamedyarov's four-game winning streak was snapped by Svidler, who took advantage of a blunder to win an exchange, while Firouzja beat Aronian with Black to overtake the sole lead. This meant that going into the last round, Firouzja would have a half-point lead ahead of Mamedyarov, Nepomniachtchi, and Caruana, who had just won his second game of the day, defeating Nakamura.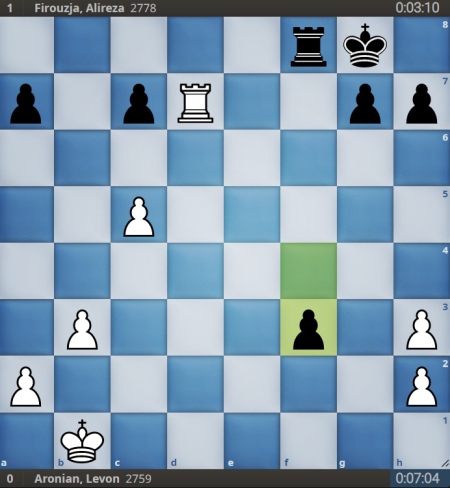 After 27…f3, Firouzja's kingside pawns were simply too strong. | 0-1, 43 moves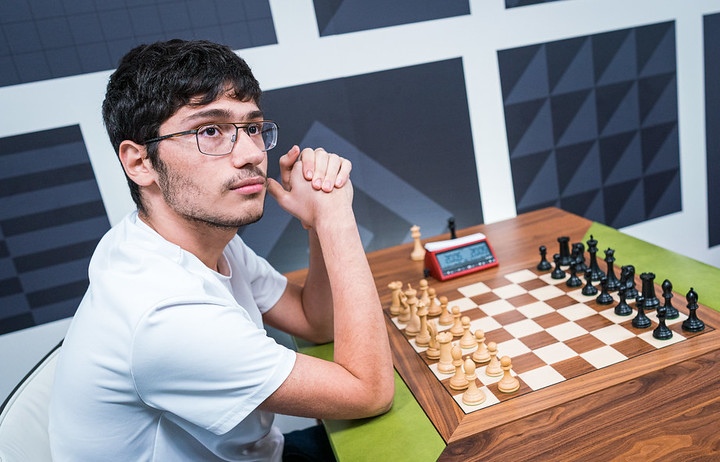 Firouzja won literally everything in Saint Louis, taking home well over $300,000 in prize money. | Photo Courtesy of Saint Louis Chess Club, Lennart Ootes
ROUND 9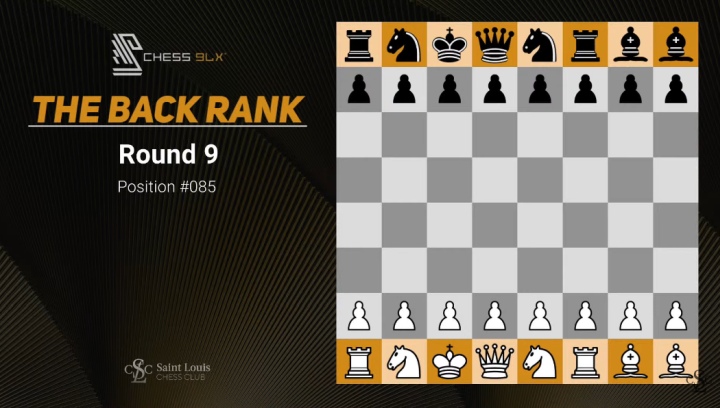 Round 9 – Starting Position
The final round saw lots of drama as three players (Mamedyarov, Nepomniachtchi, Caruana) were all chasing Firouzja, who had White against Nakamura. At first, Firouzja was in a bit of trouble out of the opening but managed to stabilize and eventually push a bit in the endgame, which was ultimately drawn. Neither Mamedyarov nor Nepomniactchi were able to win their games, but Caruana continued his excellent form with a win over So, catching up to Firouzja and forcing a rapid playoff.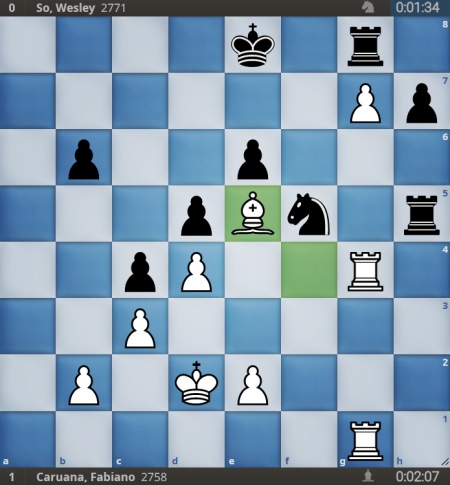 After 35.Be5, Caruana's powerful dark-squared bishop and passed pawn on g7 secured a decisive advantage. | 1-0, 46 moves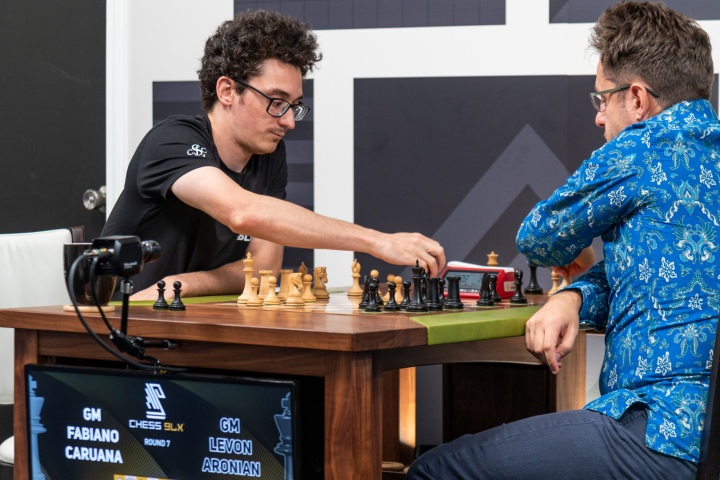 An insane comeback day for Caruana, who entered the day thinking he had no chances. | Photo Courtesy of Saint Louis Chess Club, Lennart Ootes
PLAYOFF
The playoff featured Caruana and Firouzja battling it out in a 2 game, 10+2 match, playing the same randomized starting position with both colours. The first game saw Firouzja much worse as White out of the opening, but a later knight sacrifice blew the game wide open. A wild time scramble then ensued, with Caruana emerging as the winner after Firouzja blundered into a direct mate: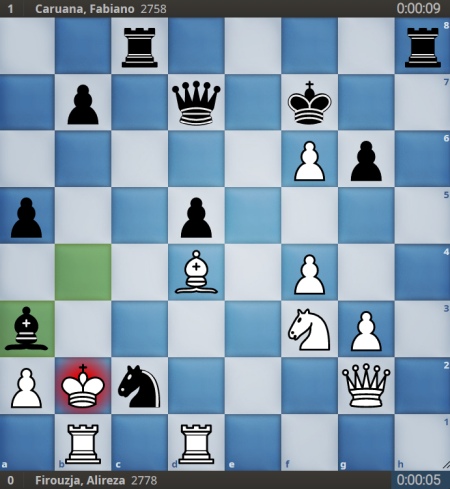 37…Ba3+ forced resignation, as 38.Kb3 would walk into either …Qb5# or …a4#
In the second game, Firouzja stroke back, forcing an Armageddon, after Caruana accidentally got his queen stuck behind enemy lines: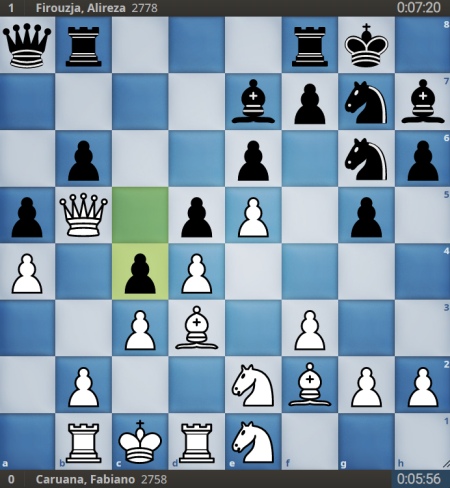 After 13…c4, White's queen was simply stuck on the queenside, with no way to get back. | 0-1, 31 moves
Winning the Armageddon toss was Caruana, who chose to play White in the final game, receiving 5 minutes against 4 minutes along with draw odds for Firouzja. At first, it seemed like Firouzja would hold without any issues after forcing an equal endgame, but a mistake allowed Caruana to snag an extra pawn thanks to a knight fork. With two knights each, Firouzja still had serious drawing chances if he managed to exchange off all the pawns, but one last pawn was all Caruana needed to convert the advantage, as he finished the game with a nice zugzwang: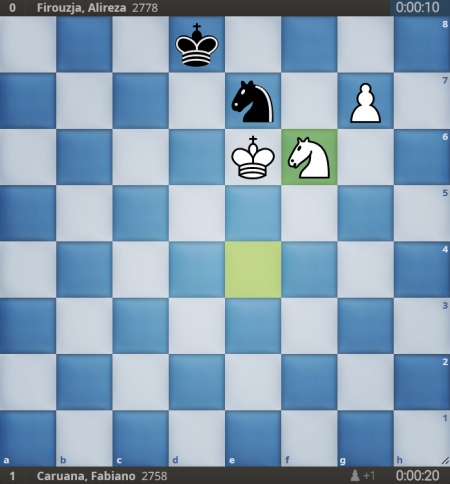 After 62.Nf6!, Black was in zugzwang and had to resign.
"Even though it was a total mess of a playoff, and it was super difficult, and honestly I was very lucky in the Armageddon, and also in the first game, still I feel very happy," said Caruana in the post-game interview.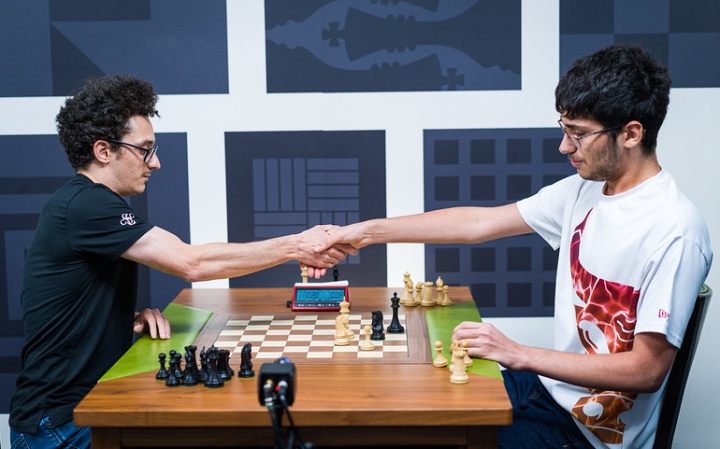 The final handshake. | Photo Courtesy of Saint Louis Chess Club, Lennart Ootes
Text: IM Kostya Kavutskiy
---

Dates & Location: 
September 14 – September 16, 2022
Saint Louis Chess Club
Livestream:
USChessChamps.Com
YouTube: @STLChessClub | Twitch.tv: @STLChessClub
Web: uschesschamps.com | Twitter: @STLChessClub
Instagram: @STLChessClub | Facebook: @STLChessClub
#ChampionsShowdown #Chess9LX #STLChessClub
Press Contact:
Rebecca Buffington
rbuffington@saintlouischessclub.org
Photo Credits:
Photos and appropriate credits available on Flickr
Saint Louis Chess Club  |  Building Champions
4657 Maryland Avenue, Saint Louis, MO 63108 | (314) 361.CHESS (2437)