FIDE World Youth U-16 Chess Olympiad 2022 is in full swing in Nakhchivan, Azerbaijan. The 9-round Swiss tournament with classical time control brought together 34 teams from 22 countries.
After five rounds of play, the fifth-rated Turkey-Red (Turkey-1) is leading the field with a perfect score of 10/10. The Turkish teenagers won all five matches, including hard-fought victories over higher-rated Uzbekistan-1 and Azerbaijan-1.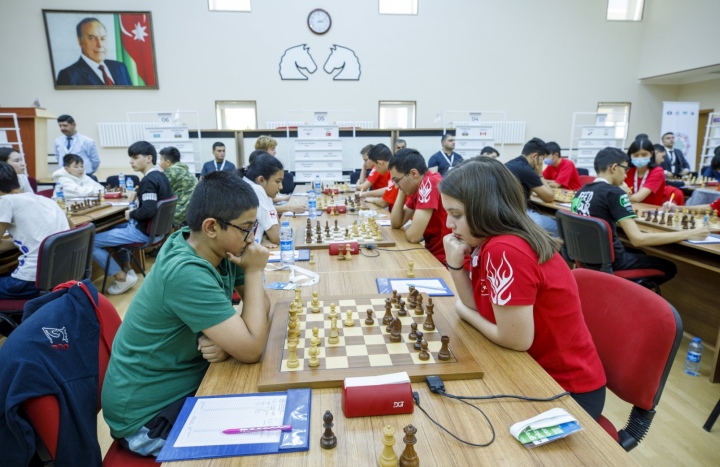 Trailing the leader by two match points, Kazakhstan (the team lost to Turkey-1 in their fifth-round clash) and Cuba are sharing second place. As many as seven teams, including the rating favourites Iran, India and Azerbaijan-1, are tied for third position sitting on 7/10.
With four rounds to go, it is still wide open as Turkey-Red has not faced Iran and India yet. Most likely, these matches will be crucial in deciding the champions.
Top 10 after Round 5:
| | | | |
| --- | --- | --- | --- |
| 1 | Turkiye-Red | 10 | 15 |
| 2 | Kazakhstan | 8 | 12½ |
| 3 | Cuba | 8 | 12 |
| 4 | India | 7 | 14½ |
| 5 | Uzbekistan-1 | 7 | 13 |
| 6 | Azerbaijan-1 | 7 | 11 |
| 7 | Mongolia | 7 | 14½ |
| 8 | Iran | 7 | 12 |
| 9 | Turkiye-Anatolia | 7 | 12 |
| 10 | Azerbaijan-4 | 7 | 12½ |
Photos: official website
Official website: youtholympiad.fide.com