GM Kateryna Lagno defeated the defending champion, GM Hou Yifan, in the final of the FIDE Chess.com 2022 Women's Speed Chess Championship on Friday, September 2. It was a riveting duel of two worthy opponents that came down to the wire in the end.
Lagno pulled ahead in the first 5+1, but some connection problems coupled with Hou's determination and resilience did not allow her to win this stage (4.5-4.5). It should be noted that Hou showed real sportsmanship and agreed to add her opponent two minutes on the clock after Katerina got disconnected.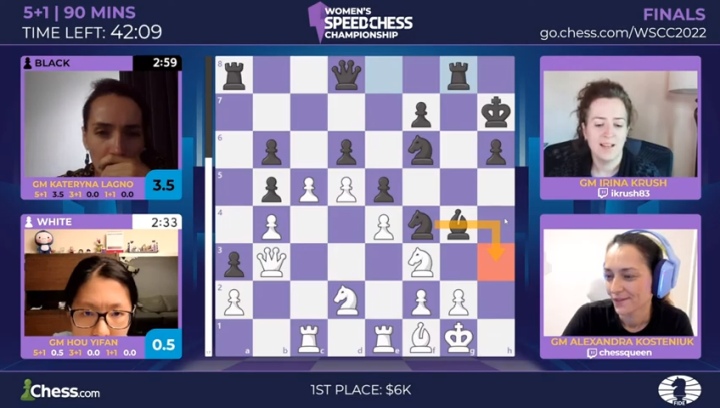 Hou Yifan grabbed the lead in the 3+1 portion in which the opponents exchanged heavy blows and kept it to the very end, winning the second segment by a minimal margin of 5.5-4.5.
Lagno immediately levelled the score in the final 1+1 stretch and then stringed together three victories and broke away. Hou responded with two straight wins sending the match to the last decisive game. Needing a victory to reach Armageddon, she spent precious seconds in a very complicated endgame and eventually forfeited on time.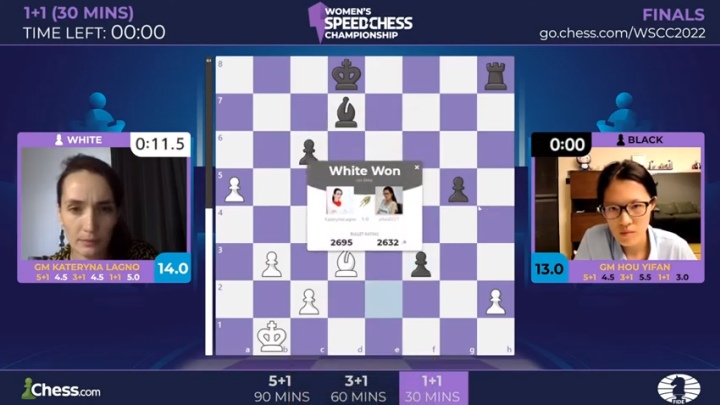 In her short post-game interview with Alexandra Kosteniuk and Irina Krush, Lagno shared how she coped with the connectivity issue: "Everything was quite good from the start, but then I got disconnected, and somehow I just couldn't put myself together after that. I understand that happens to Chinese players quite often, but I was like: 'Not today! Not now!' And then… it was always a very close match."
Kateryna also expressed gratitude to her husband, GM Alexander Grischuk, who helped with opening preparation.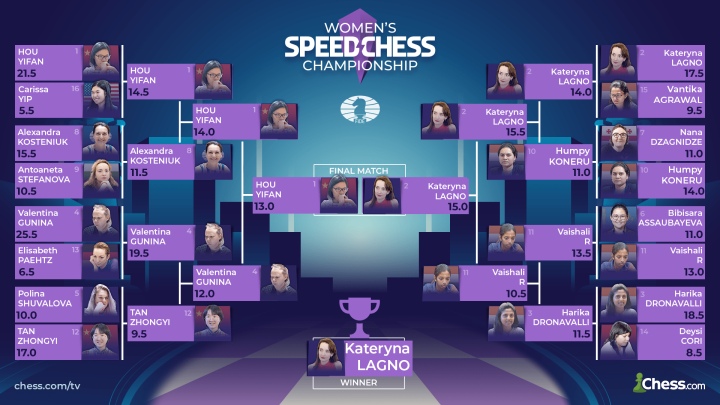 Lagno earned $9,214.29 in prize money for this victory and a total of $20,860.11 in this event. Hou collected $2,785.71 from this match, $14,399.85 in total.
The FIDE Chess.com 2022 Women's Speed Chess Championship is an online event where titled women players will play a series of blitz and bullet matches for a share of the $70,000 prize fund.
More info of the FIDE Chess.com Women's Speed Chess Championship can be found here.