Novy Bor (Czech Republic) emerged as the winner of the European Club Cup, a seven-round team event held in Mayrhofen, Austria, from October 3-9, 2022. The open and women's competitions ran concurrently.
After beating Asnieres Le Grand Echiquier 3½:2½ in the final round, the Czech team secured the long-awaited second title after a nine-year break. Novy Bor put in a dominating performance winning all seven matches.
The team leader Pentala Harikrishna laid the foundation for success by defeating Maxime Vachier-Lagrave with white pieces in a popular line of Gruenfeld Defence. On the second board, Vidit stumbled and lost to Esipenko after scoring phenomenal six wins in a row in the previous rounds; boards three to five ended in draws. David Anton Guijarro playing on the sixth board, secured the match victory and title for Novy Bor by beating Matthieu Cornette.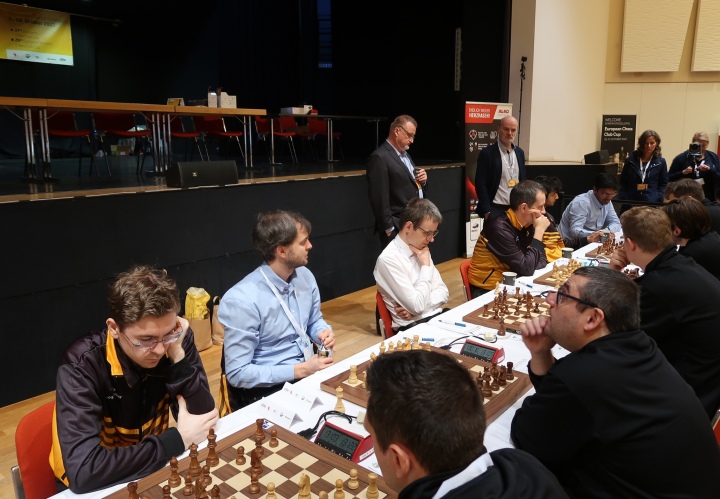 Silver and bronze go to Clichy-Echecs-92 (12/14) and Schachclub Viernheim 1934e.V. (11/14). Ironically, the champions and the runner-up team did not face each other in the competition.
As many as nine teams tied for third place. Somewhat surprisingly, the rating favourite Romanian team CSU ASE Superbet with Anand and Rapport in the roaster, came only sixth behind Asnieres Le Grand Echiquier and Beer Sheva Chess Club due to inferior Sonneborn-Berger. For this very reason, Offerspill Chess Club, headed by Magnus Carlsen, finished behind them.
Final standings:
| | | | |
| --- | --- | --- | --- |
| 1 | CZE | Novy Bor Chess club | 14 |
| 2 | FRA | Clichy-Echecs-92 | 12 |
| 3 | GER | Schachclub Viernheim 1934e.V. | 11 |
| 4 | FRA | Asnieres Le Grand Echiquier | 10 |
| 5 | ISR | Beer Sheva Chess Club | 10 |
| 6 | ROU | CSU ASE Superbet | 10 |
| 7 | NOR | Offerspill Chess Club | 10 |
| 8 | SLO | TAJFUN – SK Ljubljana | 10 |
| 9 | ISR | Kfar Saba Chess Club | 10 |
| 10 | AZE | Vugar Gashimov | 10 |
Heading into the final round of the European Women's Club Cup, the local team ASVÖ Pamhagen was two points ahead of CSU ASE Superbet and Cercle d'Echecs de Monte-Carlo. The team from Burgenland made a 2:2 draw against the Polish team BGK KS Gwiazda Bydgoszcz and secured the title (first ever for an Austrian club), scoring 12/14.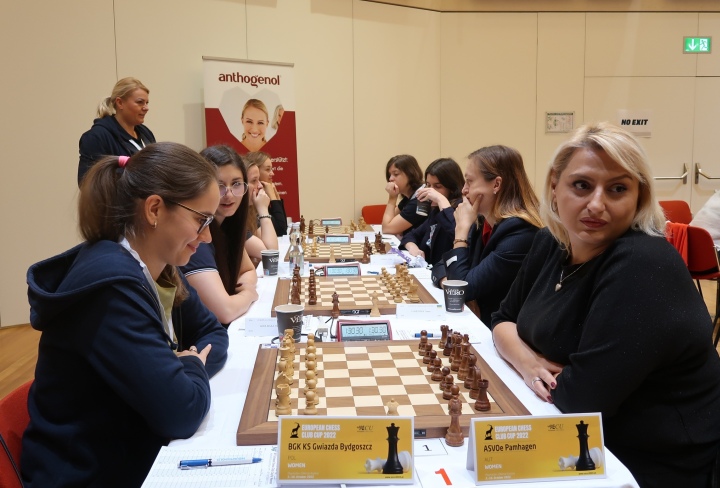 On the top board, Elina Danielian suffered defeat at the hands of Alina Kashlinskaya, but Yuliia Osmak retaliated on the third board and equalized for Pamhagen. The game on boards two and four were drawn. The Austrian team owes its success to a very strong showing by Anna Ushenina, Yuliia Osmak (contributing 5/5 each) and Aleksandra Maltsevskaya (5.5/7).
CSU ASE Superbet and  Cercle d'Echecs de Monte-Carlo won their last-round matches and tied for second place, with the Romanian team taking silver by dint of better tiebreaks.
Final standings:
| | | | |
| --- | --- | --- | --- |
| 1 | AUT | ASVOe Pamhagen | 12 |
| 2 | ROU | CSU ASE Superbet | 11 |
| 3 | MNC | Cercle d'Echecs de Monte-Carlo | 11 |
| 4 | POL | BGK KS Gwiazda Bydgoszcz | 8 |
| 5 | AUT | SK Erste Bank Baden | 8 |
| 6 | AZE | Odlar Yurdu | 8 |
| 7 | SLO | TAJFUN – SK Ljubljana | 7 |
| 8 | ENG | Wood Green | 7 |
| 9 | UKR | Blue & Yellow | 7 |
| 10 | FRA | Philidor Mulhouse | 7 |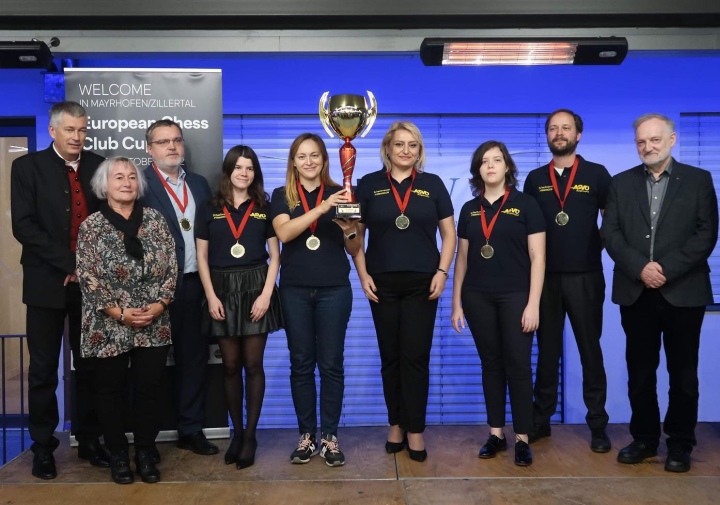 Photo: Walter Kastner and Fiona Steil-Antoni
Official website: eccc2022.at