The second Intercontinental Online Chess Championship for Prisoners – the biggest-ever chess event among correctional facilities – kicked off on October 13. 85+ teams from 46 countries representing all continents joined the tournament, which aims to popularize chess as an efficient tool for reintegrating incarcerated people.
The online opening ceremony featured FIDE President Arkady Dvorkovich, Cook County Sheriff Tomas J. Dart. and Deputy Chair of the FIDE Management Board Dana Reizniece-Ozola.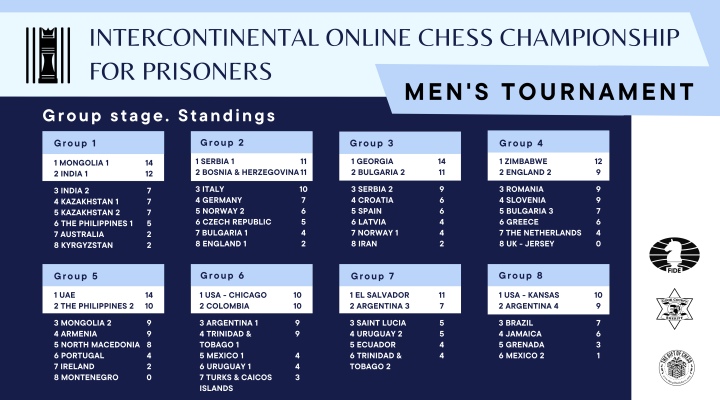 FIDE President Arkady Dvorkovich greeted the participants of the event. "Our project "Chess for Freedom", is for people who made mistakes in their lives before but have a chance to improve. FIDE is going to bring chess to all corners of the world, especially to those corners where chess can transform lives of people, give them a chance to live a better life and change things around. People who are not free now can develop their lives to the best. I hope this event will give a boost to the development of chess around the world and will have a great social impact," he said.
Cook County Sheriff Thomas J. Dart, who introduced the chess program to Cook County Jail more than 10 years ago, emphasized that chess teaches its players valuable life lessons: "Chess is an amazing sport; it gives you critical skills, but it also teaches you patience, things that we can all learn from and something we can all use in our daily life. I hope you can enjoy the game today, and good luck, everyone."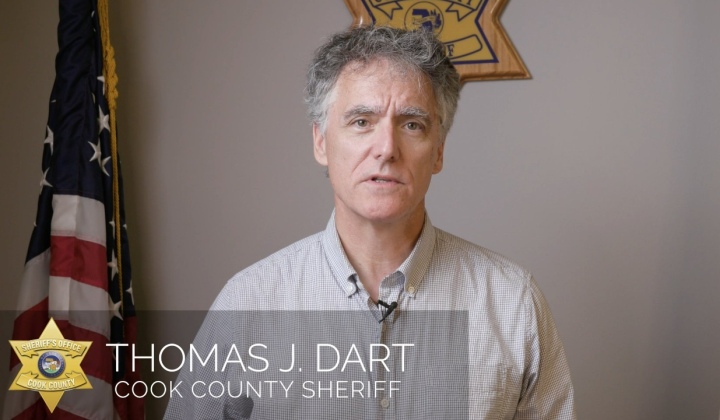 Along with Cook County Sheriff Thomas J. Dart, representatives of the consulates of Australia, Brazil, Bulgaria, Colombia, Czech Republic, Ecuador and Mongolia visited Cook County Jail to greet the participants of the championship and take part in the round table dedicated to Chess in Prisons initiatives.
Today, in the group stage, the teams, comprised of 4 players with an unlimited number of substitutes, were divided into groups and competed in round-robin tournaments. The top two teams from each group advanced to the Championship round, which will be held tomorrow, October 14. Those teams are Mongolia 1 and India 1 (Group 1), Serbia 1 and Bosnia and Herzegovina (Group 2), Georgia and Bulgaria 2 (Group 3), Zimbabwe and England 2 (Group 4), UAE and the Philippines 2 (Group 5), USA – Chicago and Colombia (Group 6), El Salvador and Argentina 3 (Group 7), and USA – Kansas and Argentina 4 (Group 8).
For the first time, separate tournaments are organized for women's and youth teams. In the youth tournament, Serbia and England (Group 1), and Ecuador and Argentina 1 (Group 2) has qualified for the Championship Round tomorrow. In the women's event, semi-finalists are Mongolia and Serbia (Group 1) and Trinidad & Tobago and England (Group 2).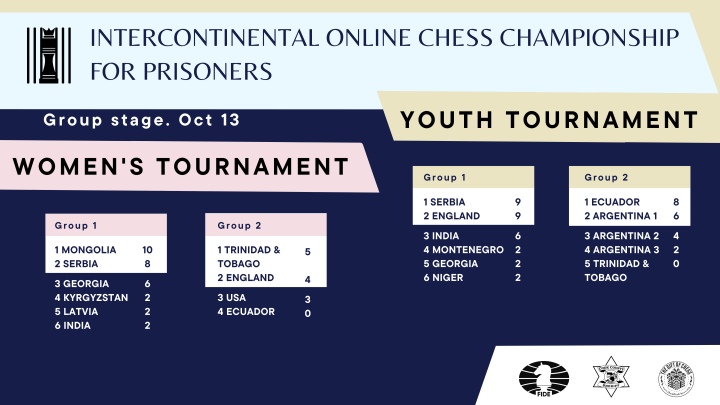 The championship, organized by FIDE and the Cook County Sheriff's Office (Chicago, IL, USA) and hosted by Chess.com, is live-streamed on FIDE's Youtube channel.
Apart from the tournament itself, the broadcast includes professional commentary and interviews with special guests – FIDE officials, government officers, members of the penitentiary administration and policymakers sharing the best practices of introducing chess to inmates, as well as former convicts proving from their own experience the positive impact of the game on prisoners.
Deputy Chair of the FIDE Management Board Dana Reizniece-Ozola joined the broadcast to talk about FIDE's social initiatives, the Chess for Freedom programme, and more. That is how she explains the rapid growth of the event:
"The prison officials see that in the places where the chess programme is implemented the behaviour of the inmates change, the depression and stress levels decrease, they are better in resocializing when they leave prisons. It's not only about the skills and another way of spending your free time, it is also the sense of belonging to a community, to the chess family. We've been working a lot to advocate for a programme itself, but I think that the example of the other countries works even better than our invitations."
Indeed, chess programs in prisons are now implemented in many countries around the world and bring benefits to inmates introduced to the game.
Simosakhe Ngwane is an ex-convict from Molweni, South Africa. He didn't even know about the game of chess before it was introduced to him in prison. And now, he organizes chess classes for at-risk kids in his hometown. "After I've met chess I realized that life is made up of clear steps that you need to know, to understand, and to respect. I've learned a lot of life principles I couldn't have learned without meeting chess. It gave me patience. If all the kids outside learned how to play chess in school, maybe most of them would know how to live without crime, without offending other people. Because chess is something very simple – you just need to know other people and yourself. The simple rule "touch is a move" gives discipline. And disciplined thinking gives disciplined behaviour," he said in his interview.
The event will continue tomorrow, October 14, with the Championship round, where 16 top teams of the men's event, divided into two groups, will play round-robin tournaments with the winners facing off in the championship match. The four best women's and youth teams will play knock-out matches. The broadcast will start at 10:00 a.m. CET.
More information about the championship and Chess for Freedom programme is here: https://chessforfreedom.fide.com/