Over 85 teams from 46 countries will participate in the second Intercontinental Online Championship for Prisoners, a two-day event that starts on October 13, 2022 – the International Day of Education in Prisons.
The Championship is a part of the "Chess for Freedom" Programme, launched back in May 2021. The project has become a vital part of FIDE's social initiatives, where chess is used for educating and empowering various groups of society.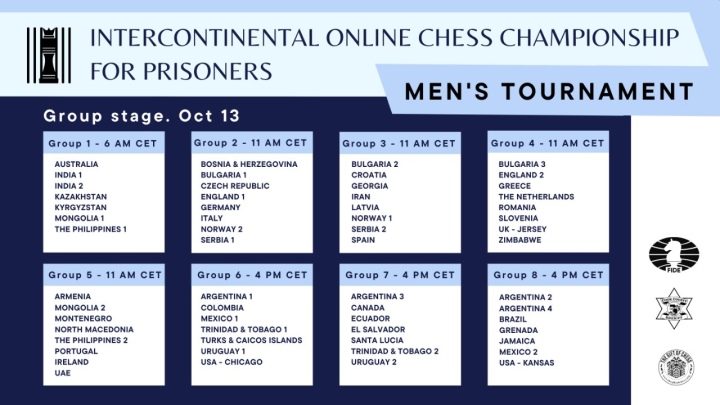 The inaugural Intercontinental Championship for Prisoners took place in October 2021, with 41 teams representing 30 countries. This time the number of teams doubled: 85+ teams, including 12 female and 14 youth squads comprised of four players with an unlimited number of substitutes, will be playing in the group stage. Prisoners are divided into eight groups and will first compete in round-robin tournaments. Two top teams from each group will advance to the Championship round held on October 14.
For the first time, separate tournaments will be organized for women's and youth teams.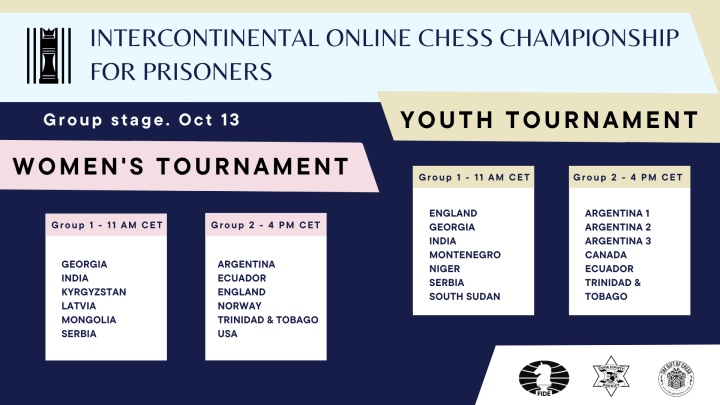 In the run-up to the Championship, in some countries, national and regional chess tournaments for prisoners were held to determine the strongest players that would represent their countries on the international level. Others have chess training for inmates to improve their online and offline chess skills.
The Championship, organized by FIDE and the Cook County Sheriff's Office (Chicago, IL, USA) and hosted by Chess.com, will be played online and live-streamed on FIDE's Youtube channel. The broadcast will include professional commentary and interviews with special guests – FIDE officials, government officers, members of the penitentiary administration and policymakers sharing the best practices of introducing chess to inmates, as well as former convicts proving from their own experience the positive impact of the game on prisoners.
More info: chessforfreedom.fide.com/