World Sight Day, observed annually on the second Thursday of October, is an international day of awareness to draw attention to global eye health issues, blindness and visual impairment. Chess is a game for everyone and is widely played by visually impaired people.
WIM Natasha Morales Santos (pictured below) is the second highest-rated female chess player in Puerto Rico. At the 44th Chess Olympiad in Chennai, she defended the first board of the national women's team. And she did that playing on her special braille board. From birth, Natasha can't see with the left eye and has only partial vision in the right.
"Earlier, I did not know about the Braille board, so I played on the regular board, but I lost many games because I used to get tired and get constant headaches trying to keep up with opponents on a regular board. I loved chess, but I couldn't carry on that way. That's when the Puerto Rican federation helped us find a braille board," she said in an interview for Sportstar magazine during the Olympiad.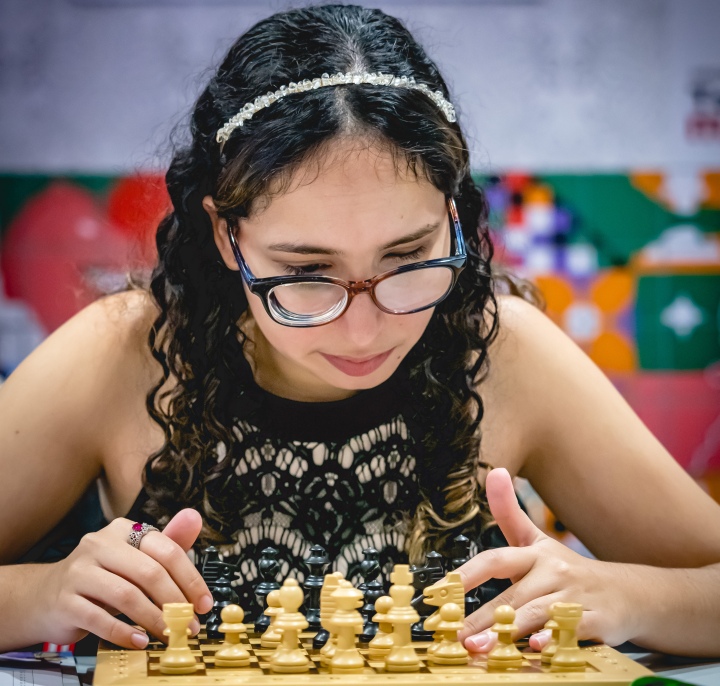 Photo: Anna Volkova, Chennai 2022
Braille chess board has special modifications that help visually impaired players. All the black squares are elevated a few millimetres to be easily identified by touch, and each of the squares has a hole in the centre in which pieces are sturdily fixed with the help of nails in their bases.
"I don't have a problem talking about my disability because it's something I am born with," says Natasha Morales Santos. "I don't like it when the only important thing is my disability. Yes, it is a quality I have and an impairment, but it does not describe me as a person or a player."
Natasha Morales Santos and many like her set an example for other players with a similar disability. Another inspiring figure is the reigning women's world champion among the blind and visually impaired, WIM Lubov Zsiltzova-Lisenko from Ukraine, who scored a whopping 8.5 out of 9 at the latest edition of the championship, held in France.
There is a special organization that governs chess for the blind and visually impaired people, International Braille Chess Association (IBCA). It is affiliated with FIDE and regularly holds IBCA world championships. The 2023 IBCA Individual World Chess Championship for Blind and Visually Impaired will take place in Greece.